Infrared saunas
How to choose this product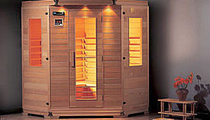 An infrared sauna heats occupants' bodies directly rather than the ambient air. Its infrared radiators heat the body to between 30 and 50° C without creating humidity.
Applications
The air in an infrared sauna remains cool enough to be breathed normally, even by children, the elderly, those with circulatory, respiratory or other health problems.
Technologies
Some saunas are insulated or equipped with hydromassage, aromatherapy or other supplementary systems.
How to choose
Choice will depend on available space and sauna size.
Advantages
- Easy installation
- Improved comfort
- More economical
- Augments health and well-being
24 companies | 168 architectural and design products
1 products Freixanet Saunasport
Freixanet Saunasport
The infrared cabin offers various benefits for health, thanks to the pleasent heat featured, its particular feature. Among others, it reinforces the immunological and cardiovascular systems, improves...
2 products Interstate Design Industries
Filter by :
› New products

(0)

› Products with video

(11)
Extend the search
Search by manufacturer
Search by catalog
Associated Terms
infra-red saunas, design infrared saunas