How to choose this product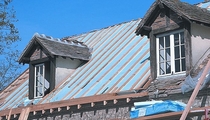 An insulated roof panel improves thermal and/or acoustic insulation in the roof, and is easier to install than roll material. On ArchiExpo, such panels are arranged by properties including material or function.
Applications
Panels are installed above or beneath the sheathing, depending on the type of roof. They may be designed to fit between roof beams or other structural components. Some contain fire retardants and/or insect repellents.
Technologies
Mineral wool, wood fibers, fiberglass, polyurethane and other materials are used to make these panels.
How to choose
Consider installation method, cost and insulating effectiveness (i.e., U-values and R-values). Check for harmful contents, such as VOCs, HCFCs and formaldehyde. Determine resistance to fire and/or insect infestation, and maintenance requirements. Examine the terms of any guarantee or a warranty, and verify compliance with local building codes.