How to choose this product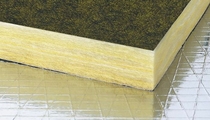 Insulation is divided into two main categories: thermal and acoustic. Use parameters are based on the results of heat-loss and acoustic-disturbance studies. Thermal insulation is organized by installation technique, including panels, rolls, loose-fill and blown foam, or material types, such as natural fiber and mineral wool. Acoustic insulation also exists in numerous configurations and materials.
Technologies
A material's thermal resistance is expressed in m2.K/W, its thermal conductivity coefficient. The lower the number, the more efficient the insulation.
How to choose
Installation method will depend on the type and age of building. New construction should use compact materials such as loose-fill insulation.

Additional exterior or interior insulation should be installed in existing buildings. Outside insulation is efficient and limits thermal bridges, but is not always feasible due to high cost. Great care must be taken to avoid thermal bridges when adding interior insulation. The material's thickness should also be taken into account, since it reduces interior space.
Advantages
- Energy savings
Disadvantages
- Decreases usable space