The Online Architecture and Design Exhibition

tertiary wallcovering
QUASAR
Quasar is a high-tech granite made from natural raw materials. A complex thermo-molecular process is used to create a stone with a stunning high-gloss, pure white surface and technical properties which open up entirely new dimensions. ...

marble wallcovering
WEAVE by Raffaello Galiotto
The marble surface is marked with graphics with bi-colored or three-dimensional effects. Workmanship: Graffiti, inlay or bas-relief.

concrete wallcovering
MASTERS : MDM12

concrete wallcovering
BROWNS
A seamless wall is made from grinded rock, making it watertight in the bathroom and the shower. These seamless walls are clean, resist lime and fungi and are an excellent alternative to tiles. Senso's seamless wall covering bring something ...
See the other products
SENSO

metal wallcovering
PURPLE GOLD
Rectified textured white body metallic ceramic tile for internal walls With the Purple series, we present a collection which combines outstanding technical innovation, creating a surface where a combination of metallic crystals generates ...

concrete wallcovering
MICROCONCRETE
Noble and flexible material, the microcement allows you to create a unique and exclusive design floors, transforming existing surfaces or new constructions in real personalized works of art, greatly enhancing the entire home decore. Its ...
See the other products
Pan neto

... Ardesia and Quarzite we have created an exclusive collection of little stone walls and a practical solution for the coverings of indoor and outdoor surfaces. Colours and types of little stone walls by Cave Bonomi® ...

cork wallcovering
WALL PANELS
Here you can find our solutions for wall coverings. From a wide range of colors and textures, you will surely find the best solution for all tastes and styles.
See the other products
Corkart Industria de Corticas, SA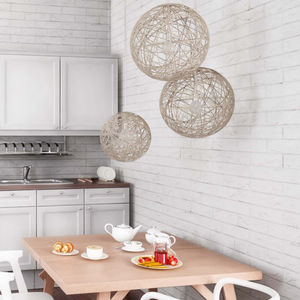 vinyl wallcovering
MOTIVO
Decorative wall is a new quality brought to your place. Unique design with surface of 2.7 sq m made in 3D technology gives unlimited possibilities for arrangement. Highest quality, 100% waterproofness, quick and simple installation ...

polyester wallcovering
EOS
Suede finish on acoustic foam backing. αw 0.3 / NRC 0.25 The benchmark in absorbent foams, assembled to a micro-perforated suedette layer. Thanks to its alpha W 0.30 acoustic absorption / NRC 0.30, EOS improves acoustic comfort considerably. EOS ...

composite wallcovering
DEKTON® SLIM
Introducing Dekton® Slim, the new ultra-thin thickness of 4mm in large format that offers unlimited design options. Its lightness and reduced thickness make it the most durable and high-performance surface covering for walls or kitchen ...

metal wallcovering
HEXAGONAL, METAL SHAPES
AC02 Stick-on Wall is wall coating, in tiles, applicable with glue. Elegant, light, millimetric and quick to lay, these are its characteristics. Each tile is made of QUALITY materials. Their design was created to be FUNCTIONAL, ECO-FRIENDLY ...
See the other products
Planium

metal wallcovering
AC02 STICK-ON WALL
To coat means to give new life to an environment. Not only furnishings, but also spaces, floors and, above all, walls can be customized in an infinite way. Planium has always tried to provide its clients with the possibility of ...
See the other products
Planium

metal wallcovering
AC02 Stick-on Wall
Planium presents a coating system with unique characteristics. AC02 Stick-on Wall allows you to cover walls easily and quickly. Stainless steel, Calamine, bronze, copper or the new exclusive finishes: discover the metropolitan ...
See the other products
Planium

fabric wallcovering
SNOWALL
Snowall is made up of polyester felt paired with a polyester Trevira CS® material using a unique application system. The felt lining and the absence of space between the two materials significantly reduces its propensity to attract dust, ...

porcelain stoneware wallcovering
COVERLAM MEDUSA
... dimensions and reduced thickness. High mechanical stregth and inmune to heat, ice and chemical agents. Ideal for coating interiors, exteriors, facades, floors and countertops.

porcelain stoneware wallcovering
COVERLAM ONICE

wood fiber wallcovering
7,5X15 VOGUE VERDE SALVIA
The Vogue range evokes the ancient ceramic handcrafting techniques and is perfectly at home in modern design solutions. BASE TILES - The slightly corrugated surface, irregular edges and small imperfections are characteristics which make ...

solid wood wallcovering
BOIS02

wooden wallcovering
BOIS optical skin

glass wallcovering
GLASRÜCKWÄNDE
Glass wall panels Individual glass highlights: Exactly the way you like it For purists and minimalists. For romantics and dreamers. For everyone, who loves it classic or modern. Simply for everyone: PALME glass wall panels and wall ...

metal forms available in finishes: variant a) – matt antique gold – matt antique copper – burnished corten variant b) – brushed matt gold – burnished corten upon request available with LED lighting

fiber-reinforced concrete wallcovering
GREY HEXA UHPC
HEXA UHPC - Decorative Wallcovering - Ultra High Performance Concrete KEY ADVANTAGES • Weight Reduction to nearly half, as a result of the minimalistic design • Thickness Reduction until 3X less, do not require ...

fiber-reinforced concrete wallcovering
WHITE HEXA UHPC
HEXA UHPC - Decorative Wallcovering - Ultra High Performance Concrete KEY ADVANTAGES • Weight Reduction to nearly half, as a result of the minimalistic design • Thickness Reduction until 3X less, do not require ...

home wallcovering
TURQUOISE SWEET TROPICAL, Fresque murale par K. Fabrizzi
An original hand painted wall mural by the artist K. Fabrizzi for Ici et Là. Made to measure for indoor or outdoor. Possibility of manufacturing on canvas. Photo: Project realized in-situ for a particular house in Paris. ...

stone wallcovering
CALIZA ALBA ROSAL
Alba Honed is our cleaner and elegant limestone. Mostly used in traditional cladding and ventilated facades, recently has been also used on glossy floors. This is a smooth but opaque surface finish in which the nuances of texture of ...

Wall coverings from pur natur Douglas and Oak Wood.

vinyl wallcovering
WG154-204-304
WG154 - 204 - 304 Plate systems are 150mm, 200mm, 300mm width. It protects and preserves building interiors against impact damage and wear.Economic plates are installed quickly and simply. They are produced in 12 different ...
See the other products
ARFEN

wooden wallcovering
ORIZZONTE
Linvisibile extended its product range with an innovative boiserie system, to decorate the walls in the same finishing as the doors. The exclusive "skin" system allows to coat, with only 3 mm of thickness, walls of any dimension in perfect ...

marble wallcovering
EMPERATRIZ BARCELO
TYPE White, Classic MATERIAL Marble MODELS Estatuario e01 FINISH SILK MEASUREMENTS 12, 6 USE Indoor
See the other products
NEOLITH