The Online Architecture and Design Exhibition

Corian® wallcovering
RAIN by Kristina Ambrozová
... artificial stone. Discover the five unique benefits of DuPont™ CORIAN® and five reasons to choose it as a solution for your interior. What is DuPont™ CORIAN® artificial stone like?
See the other products
AMOS DESIGN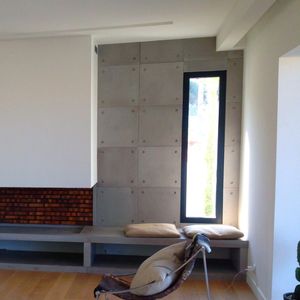 Ductal® UHP concrete wallcovering
See the other products
BALIAN BETON Atelier

sandstone wallcovering
MAULBRONN
... and compact structure allows cuts "with the grain" and "against the grain". Uses Historical monument stone; today: in interior and exterior architecture for facades, flooring, solid construction and heritage conservation work

All our products are bespoke, according to client´s wish. Each interior is original. Lower you can see some examples of our realisations.

iCOAT Premium Wall Finish System and its products are the newest iCOAT System. A revolutionary new product that can be applied over almost any surface due to the advanced adhesion characteristics. The iCOAT Premium Wall Finish has been ...
See the other products
iCoat

stone wallcovering
CREME FÁTIMA
Physico - Mechanical Properties Flexural Strenght: 11.9 MPa Flexural Strenght After Frost Resistance (48 cycles): 9.1MPa Resistance to fixing: 416 Kg Water Absorption at Atmospheric Pressure: 3.0% Aparent Density: 2490 Kg/m² Open ...
See the other products
GRUPO AIREMARMORES

tertiary wallcovering
NATUROCIMENT
... intervention on a historical building. PNB is responsable for the, placement of panels facade 'Cimbonit" in naturocimento, the inside facades of commercial gallery, a challenge to which PNB answered successfully. Since ...