The Online Architecture and Design Exhibition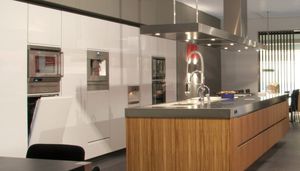 contemporary kitchen
KILPA
KILPA, the aboriginal word for "cool", is a concept where all kitchen elements together form a balanced whole. The 10cm theme can be refound in each element, such as mitre-welded bridges, worktops with integrated power ...
See the other products
ABK InnoVent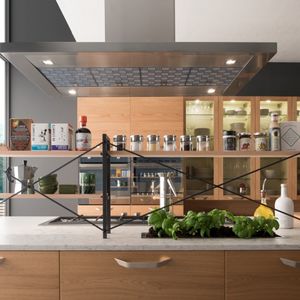 contemporary kitchen
TERRA
When was the last time that you felt the nature? Wooden surface of Terra that carries the traces of nature brings you the peace that you have been longing for.
See the other products
Lineadecor

contemporary kitchen
THE BASE

contemporary kitchen
FLORENTINE
See the other products
charles bigant

contemporary kitchen
NX 500
Satin lacquer, evokes memories of airiness, pastel colours, the ochre and earth tones of Provence, the fragrance of lavender and a primeval wild landscape. For all who see colour as a mood and perceive it intuitively. The available variety ...
See the other products
Next125

contemporary kitchen
SISTEMA 22
Elegant colour combinations, new openings type, spacious tall units, this is SISTEMA 22: a new interpretation of the kitchen concept, a clever design project that is also extremely flexible and can be adapted to every ...
See the other products
Alta

contemporary kitchen
GLASLINE G092
... grey Picture details: - Bar flap door - Open shelves in L275 Agate grey satin - Drawer 350 mm especially for island back Special features: Bar solution with 90 mm wide panels
See the other products
Schüller Möbelwerk KG

The island is coated by ceramic plates.The surface is absolutely non-porous and hard to scratch, it resists even the high temperatures and it is pleasant to touch. The drawers have likeable push-to-open mechanisms. They ...
See the other products
LE BON spol.s.r.o.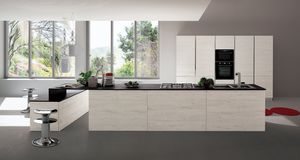 contemporary kitchen
OSLO
See the other products
Gicinque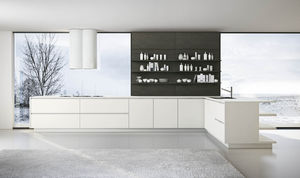 contemporary kitchen
DOMUS
Made with water-repellent engineered wood panels with a thickness of 28 mm, class E1, veneered with wood according to the Valdesign colour chart (see relevant item for the characteristics of the sliced veneers and paints); veneered doors ...
See the other products
Valdesign Cucine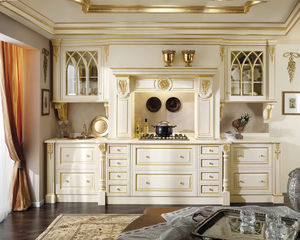 traditional kitchen
BEATRICE
See the other products
Onlywood SRL

contemporary kitchen
HARMONY
Harmony Grey is made of 1.9 cm fibreboard coated with 0.7 mm grey tehnical veneer made from dyed birch. Harmony Grey has 6.5 mm solid wood wood edge profiles in the same material.
See the other products
HTH Køkkener

contemporary kitchen
JUKO II
... the interior. The open kitchen island equipped with a sink, working place and a hob is a valued solution. It ensures eye contact with guests even while preparing meals. Maybe a small party or cooking ...
See the other products
Rust

One is a unique kitchen. A monolithic island with perimeter (top, sides and base) at 45° beveled and 30 mm thick. The typical One collections design is enriched by doors, 45° beveled and 25 mm ...
See the other products
RI.FRA MOBILI

contemporary kitchen
LACLUSAZ-LINXIA
See the other products
SAGNE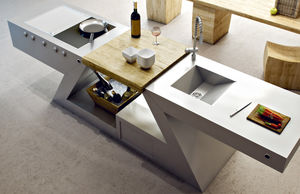 contemporary kitchen
by Massimo Zanchetta
Available in stainless steel, and a variety of decorative solid surface materials, which can support baking equipment, extraction fans, sinks, refrigeration units, tool compartments, bottle holders, and storage. Customisable according ...
See the other products
TECKMAR SRL

contemporary kitchen
DISCO
See the other products
ELITON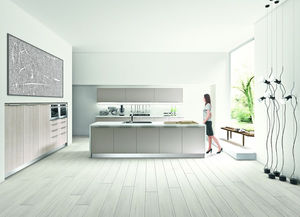 contemporary kitchen
CLOE: COMPOSITION 1
Cloe is an open and spacious kitchen designed in line with the latest trends. This solution, which combines a white laminate finish with a stone 754 top, has a remarkable glamorous style. The streamlined profile lends ...
See the other products
Corazzin Group - Contract & hotel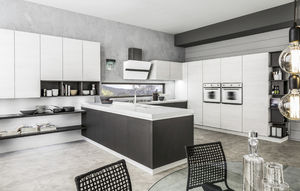 contemporary kitchen
ORIENTE
Arrex le cucine introduces Oriente, a versatile modern kitchen available in laminate in the following finishes: - Laminate in Wood effect: Naturale, Camoscio, Igloo - Laminate in Cement Effect: Airone, Brulè, Sambuco, ...
See the other products
Arrex

contemporary kitchen
DIAMOND by Franco Scalco
... warm and comforting atmosphere. This kitchen also distinguishes itself through professional electrical appliances and functional automated features, including a rotating pantry and motorized columns. The central island ...
See the other products
FAOMA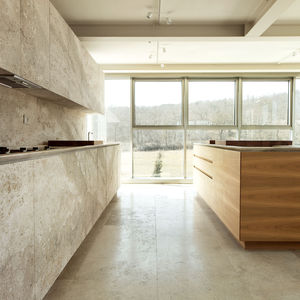 contemporary kitchen
OCO KITCHEN by Marco W. Fagioli_Emanuel Gargano
... craftsmanship, make for an ample system where the central island matches the kitchen cabinetry, all of which can be finished with stone, wood, gloss or matt lacquer. The tops, with their sinks carved ...
See the other products
Vaselli Marmi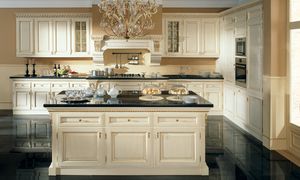 traditional kitchen
TURANDOT
Sculptural-effect kitchens and dining rooms designed to welcome the most important guests: stylish rooms that create an air of refined elegance

contemporary kitchen
EDINBURGH ROAD
... Firth of Forth. The raw countertops are made from 45mm Oak felled just outside Stirling. All other Oak is native, either from Stirling or Dorset, and supplied by small independent sawmillers. The island ...


contemporary kitchen
STRIKING YET HARMONIOUS
... light panel casts its atmospheric light across the room: a must-have for an intimate dinner party. The functional kitchen island with its slim worktop made from lacquered glass provides the ideal focal ...
See the other products
Warendorfer

contemporary kitchen
MULTIPLA
See the other products
Aerre