How to choose this product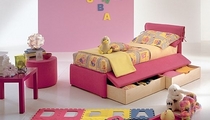 A child's bed differs from other simple beds in that its shape, color and decoration match children's tastes. Examples include the castle bed, the press or Murphy bed and theme beds, including sports, animals, hearts, flowers and other motifs.
Applications
Such furniture is found in a variety of settings where children are present, both private and public: bedrooms, schools, summer camps, etc.
Technologies
Most of these beds are made of wood, though some are of metal or plastic. They are often designed to save space in a child's room. Such models include extendable, nesting, loft, combination and bunk beds.
How to choose
Choice factors include the size of the room and the sex and tastes of the child. A girl might prefer a princess bed, while a boy might opt for one with pirate or car motifs. There are also unisex beds in beige or red, with animal or other decorations.
Advantages
- Creates a "child's" ambiance
Disadvantages
- Must be replaced as the child grows