How to choose this product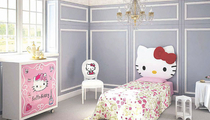 Child's room furniture is a set of matching pieces intended for use in a child's bedroom. It includes at least a bed and a storage unit (wardrobe, dresser, etc.), with the possible addition of desk, shelves, chairs, rug and/or other elements. The forms, colors and motifs of the furniture are often conceived with juvenile tastes in mind.
Applications
This furniture is found primarily in homes, where decor is often important.
Technologies
Most children's furniture is of wood, though synthetics, metal and other materials may be used. It is sometimes designed to save space: bed/storage combination, loft bed, hideaway desk, etc.
How to choose
Choice will depend on room size and the age, sex and tastes of the child. Children from three to 10 years old tend to like theme decors, for example, princess for girls and pirate for boys. Adolescents often like bright colors and contrasting elements.
Advantages
- Pleasing to the child
Disadvantages
- Quickly outgrown