How to choose this product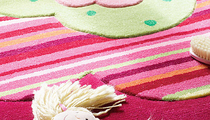 A child's rug is characterized by bright colors and interesting shapes. It can be round, rectangular, square or in the shape of a flower, an automobile or an animal.
How to choose
Choice will depend on color, shape, texture and fiber structure. Quality and durability are particularly important. A thick, dense rug can reduce fall injuries. Stain resistance and ease of care also should be considered. The rug should not emit toxic vapors.
Advantages
- Comfort
- Variety of shapes
- Protects against fall injuries