How to choose this product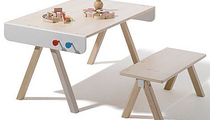 A child's table is characterized primarily by its small size. Chairs used with it are also smaller and lower, allowing children to use the furniture without help. Bright or pastel colors attractive to children are often used, as well as decoration featuring juvenile themes, such as hearts, soccer balls or stuffed animals.
Applications
These tables are used for playing, drawing, eating or other activities. They are found both outdoors and in, at schools and playgrounds, and in waiting rooms, homes and other locations.
Technologies
Most such furniture is made of wood, plastic or metal.
How to choose
Choice will depend primarily on intended use. This will help in the selection of other features, such as integrated seating, drawers and shelves. Other important criteria include table design, materials, color and decoration. Certain configurations are intended for girls, such as pink with a princess motif. A boy's model might be blue, with automobile decoration. Unisex versions also exist.