Kitchens
194 companies | 4487 products
How to choose this product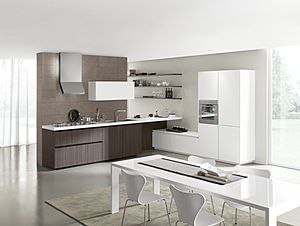 The kitchen is not simply a room for food preparation. It is the most important room in the home and is often the primary gathering place for householders and guests. It can be custom-built or created from ready-made units. ArchiExpo classifies kitchens by style: designer, contemporary, traditional, classic, etc.
Applications
Kitchens are used for food preparation, storage of ingredients and leftovers, and, in some cases, for eating, either at a bar or a table.
Technologies
Kitchen elements can be made from a variety of materials: solid wood, wood veneer, glass, stainless steel or aluminum. Cabinets now offer many clever features. Pantries can have sliding doors or be configured for corner installation. Drawers are designed to open partially or all the way.
How to choose
The range of available kitchen components is vast. Choices should be made with the following factors in mind:
- Family size
- Available space
- Budget
- Style preference
- Finish (wood, laminate, lacquered, wood veneer, metal, glass, etc.)
- With or without an island
- Cabinet configuration.