How to choose this product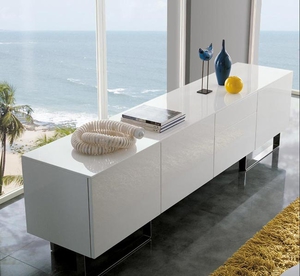 A lacquered side board may come in a range of styles, colors, form, and finishes. It may be traditional or contemporary, matte or glossy, and can constitute an attractive complement to room decor.
Applications
Such furniture is used for displaying and storing items as varied as media equipment and table ware. It also may be used as an extra table for serving food and drink.
Technologies
These sideboards may be coated with a traditional lac-based product or with a polymer-based agent, which is more durable and can produce a range of finishes from matte to high gloss. Wood, glass, steel and other materials are used to make this furniture.
How to choose
When choosing, consider how the style will affect the space, be it living room or dining room. While high-gloss, minimal finishes and bold colors may complement contemporary decor, a more traditional shellac finish may be preferable with period furniture.

Consider whether the sideboard will be tall or low, what it will store and display, and how much maintenance is required. Favor scratch-, heat- and chemical-resistant finishes, as damage may be difficult to repair.