How to choose this product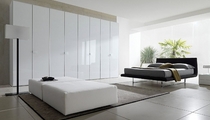 The lacquered wardrobe is covered by a lacquer-type varnish to protect it from scratches, moisture, mold, mildew, etc. This results in a smooth, glossy, modern finish. Some lacquers include decorative coloring agents.
How to choose
Choice will depend primarily on the wardrobe's size and the space available for it. Another factor is the need to balance hanging space, shelf space and drawer storage. Aesthetic qualities of the piece, including materials and color, and coordination with bedroom decor constitute a final element of choice.
Advantages
- Color variety
- Durability
- Easy to clean