How to choose this product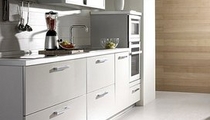 The laminate kitchen is made of water-repellent composite products that are impact- and heat-resistant. Components may have a diversity of colors, decorations and finishes imitating other materials, including wood and marble. Compressed laminate materials are tough, attractive, easy to clean and offer a good quality-to-price ratio. Edges may be rounded or covered with wood or another material.
Technologies
Laminates are high-density, compressed layers of water-repellent composite materials covered by a layer of matte or glossy resin. Their standard thickness is 40 millimeters, though they are available from 30 to 75 mm.
Advantages
- Diversity of finish
- Hygienic; easy to clean
- Strong and durable
- Water-repellent