How to choose this product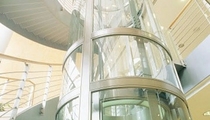 Laminated glass is a type of safety glass available in a wide variety of formats, thicknesses, qualities and colors. It can be curved, non-reflective, decorative, tinted, enameled, stamped, lacquered or frosted, among other treatments.
Applications
This glass is used in the manufacture of construction elements to provide strength, safety, acoustic attenuation, bullet-proofing or related qualities.
Technologies
Lamination consists of a placing a layer of polyvinyl butyral (PVB) between layers of glass. This holds the glass together even if it is shattered, preventing the spread of shards. Thus, it is classified as "safety glass." Float, heat toughened and tempered glass all are used in the manufacture of laminated sheets, depending on the level of strength required. Multiple laminate products incorporate additional materials, such as acrylic or polycarbonate.