How to choose this product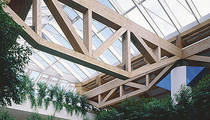 A laminated glass panel is a transparent or translucent element widely used in architecture and construction for its superior strength, acoustic insulation, protective and safety characteristics. It also offers decorative options, such as varying shapes, sizes and colors, non-reflective surface, UV protection and incorporated LEDs, among others.
Applications
These panels are used wherever architectural considerations require particular strength and safety, for example in building facades, partitions, access floors, railings, windows and doors.
Technologies
Laminated panels are produced using heat and pressure to permanently bond a layer of flexible plastic between two layers of glass. This creates safety glass, which maintains its integrity even when broken. The glass can be float, toughened or tempered, offering different levels of strength. Laminated panels may include more than two sheets of glass. Acrylic, polycarbonate or other materials are used as the laminate.
How to choose
Choice will depend on the type and technical requirements of the project. Professional advice is highly recommended.
Advantages
- Superior strength
- Safety
- Aesthetic variety