How to choose this product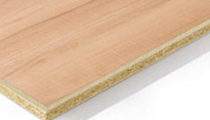 A laminated panel is made by applying a laminated finish piece over a pressed wood core. ArchExpo offers laminated panels with finishes of varying looks, including wood, stone, metallic, copper, perforated and printed.
Applications
Laminated panels are used in furniture and components for interior space organization in a variety of settings.
Technologies
The laminate consists of several sheets of kraft paper impregnated with phenolic resin and bonded by heat and pressure. It is then factory glued to a core of particle board. Lamination can be applied to one or both sides, as well as to the edges.
Advantages
- Easy to clean
- Wide range of color and finish