The Online Architecture and Design Exhibition

pendant lamp
NORMA by Borek Sipek
... created a whirlwind of golden leaves: the result is a precious and seductive globe. characteristics Brass suspension lamp with gilded leaves and blown glass elements. dimensions ø 60 H. 150
See the other products
DRIADE

See the other products
Cappellini

See the other products
la murrina

... and suspension lamp Power supply with plug Lift the bar and getting over the limits to bring light where you want. Fosbury was born after a visit to a wonderful exhibition of Alexander Calder ... 220-240 V - 50/60 ...
See the other products
DAVIDE GROPPI

... the trip, the TGV lamp is an element of domestic character promising "home-like" comfort. With the character of a home lamp rooted naturally in its genes, the SNCF and Moustache pooled their competence ...
See the other products
Moustache

pendant lamp
CHALICE by Edward van Vliet
The fine crystal beauty of the Chalice Lamp is enhanced by a soft metallic-grey body with black rings at the base of each translucent silver glass chalice. The result is a new bouquet of light, available in two sizes.
See the other products
moooi

pendant lamp
RICE PAPER SHADE
Featuring a classic circular lantern design in lightweight paper and ribbed bamboo frame, HAY's Rice Paper lampshade emits a soft light and can be used anywhere in the home. Available in three sizes. Cord set not included.
See the other products
Hay a/s

Grey painted die-cast aluminium structure and clear glass diffuser. Adjustable reflector.
See the other products
LUCENTE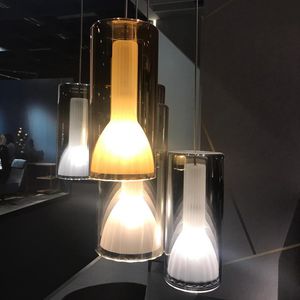 pendant lamp
LIT by Umberto Asnago
Suspensions with metal structure and shade in borosilicate glass.Outer shade in the colors: blue, violet, orange and gold. Inner shade in striped sandblasted glass. Ceiling canopy in white or titanium varnished metal.
See the other products
PENTA

table lamp
CIRC : M-3727 by Nahtrang Studio
Portable outdoor table lamp operated with battery. Shade is made of translucent polyethilene with a beige colour scheme. Battery life over 6 hours at maximum brightness. Charging time from 8 to 10 hours. 5V 1A induction ...
See the other products
ESTILUZ

floor-standing lamp
AVS18 : AVS18FW by Anna von Schewen
Height 1520mm. Diameter 360mm. Bulb 10W led E27. Pendant and floor lamp in sheet metal. White mat.
See the other products
BSWEDEN

table lamp
BIVIO by Michael Raasch
See the other products
MOLTO LUCE

See the other products
DARK AT NIGHT NV

... Light source E27 base, LED max 20 W. Comes with a LED bulb (Airam Pro LED, E27, 11 W, 1055 lumen, 2800 K, warm white, non-dimmable, may vary). The use of special bulbs such as halogen, mirror or 12 V ...
See the other products
SectoDesign Oy

table lamp
CAP by Luís Eslava
Focused on the simplicity of its shapes, reducing its morphology to a set of basic pieces that play with light direction.
See the other products
almerich

Mr. John is a particularly innovative lamp, characterized by a pulley mechanism composed of a ceiling mount and a counterweight. The canopy can be customized in different colours, while the lampshade is in glass. Available ...
See the other products
Cerasa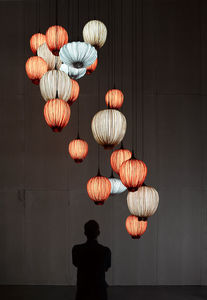 pendant lamp
MORNING GLORY : SUURIA SON
The Suuria Son pendant lamps are delicate floating orbs, derived from the stylized form of flower bulbs. Smaller than the Dippa, these vibrant silk designs are available as both table lamps and suspended ...
See the other products
Aqua Creations

pendant lamp
SO-SAGE STRASBOURG by Sam Baron
SO-SAGE is the new story invented by Sam Baron and Petite Friture. They appear like glass sausages hanging as they would in a traditional butchers, of different sizes and forms, that illuminate mischievously thanks to a levitating light. ...
See the other products
Petite Friture

pendant lamp
BAGATELLE : 1241N
See the other products
Swarovski Lighting

table lamp
BEAM by Tom Chung
Beam is a versatile table lamp with a modern expression and intuitive user-friendliness. With light shone from both ends of a cylinder shape, the user can choose between three different volumes of light and gradually ...
See the other products
Muuto

... Light source: UK/EU E27 Max 100W, USA E26 Max 100W (not included) UK/EU 220v CE certified, USA 120v, integrated 12W AC LED Unit, 900 lumen, 3000K, CRI 90, dimmable via Triac / Lutron chip life 30,000hrs, compatible ...
See the other products
Innermost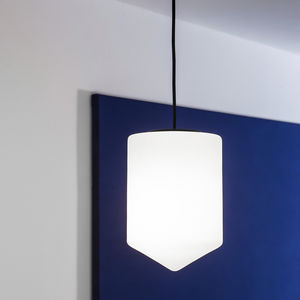 pendant lamp
BULLET by Benjamin Hopf
BULLET is a very reduced, iconic product family. In spite of its simple shape, this lighting range brings a lot of a associations to mind. They range from an almost sacred appearance, the shape of a candle or a reduced arrow to the calming ...
See the other products
Formagenda

pendant lamp
CHRISTIAN : 32570 by Anouska Hempel
The Christian pendant lamp is designed by Anouska Hempel. The metal parts are finished in polished black, whilst the lampshade are in ivory color.
See the other products
ZONCA SPA

table lamp
ALBA by Mariana Pellegrino Soto
... together with the use of a satin brass finish, combine to create Alba, a family with a strong visual impact. In the table lamp version, the drop rests delicately on a satin brass rectangular-section profile in the ...
See the other products
Oluce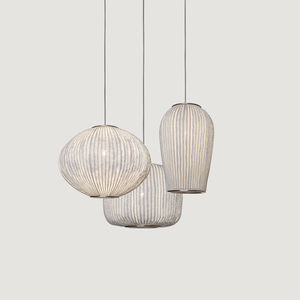 pendant lamp
CORAL : CO04-3
Organic looking pendant lamps, inspired by the beauty of coral reefs. The models of the collection, with their different forms and the elegance of their lines, result ideally to light any kind of room. The natural charm ...
See the other products
arturo alvarez