How to choose this product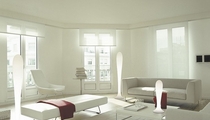 A light column sits on the floor and produces a glowing light which moves from one end of the column to the other, changing color and intensity, to produce varying moods. The column can be design or contemporary in style.
Applications
These fixtures can be used in living and bedrooms, as well as in yards and on terraces.
Technologies
Columns can mix colors, produce different shades of the same color and vary light intensity, usually via light-emitting diodes (LED).
How to choose
Choice will depend on personal taste and decor of the room. Efficiency, operation, maintenance and the quality, color and intensity of the light should also be considered.