Linoleum flooring
How to choose this product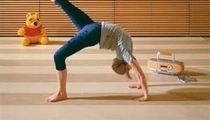 Linoleum flooring is manufactured primarily from natural elements, such as linseed oil, resins, recycled wood flour, cork dust, limestone, natural pigments and a backing of canvas or jute. Thus, linoleum is natural, antibacterial and biodegradable. It can take the form of tiles, sheets or strips, from two to four millimeters thick.
Applications
Linoleum's qualities make it suitable for use in spas, industrial buildings, stores, homes and many other settings. Some versions are specially intended for use where spills or high humidity are likely.
Technologies
The mechanical and aesthetic characteristics of linoleum vary with the many different manufacturing processes and options. Installation usually requires a specialist.
Advantages
- Hygienic
- Comfortable
- Sturdy
12 companies | 117 architectural and design products
2 products FieldTurf Tarkett
1 products Lenzlinger Access Floors
1 products SADI POLIARCHITETTURA
1 products Jindao Floors, Inc.
Filter by :
› New products

(30)

› Products with video

(0)
Extend the search
Search by manufacturer
Search by catalog
Associated Terms
linoleum floors