How to choose this product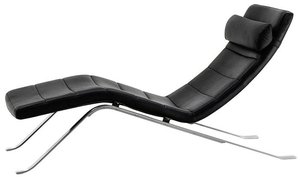 The lounge chair, or chaise lounge embodies relaxation, with a charm all its own. Modern versions grew out of a piece created by Le Corbusier in 1920, which is still present in the I Maestri collection of the Cassina catalog. ArchiExpo offers numerous types differentiated by style, size and material.
Applications
This is luxury furniture, sometimes expensive and voluminous, requiring a certain amount of space for successful integration into the home. Outdoor models must be made of materials able to withstand exposure to the elements.
Technologies
Though the variety is substantial, this furniture is always designed for comfort according to ergonomic principles. The most traditional versions resemble nineteenth-century daybeds, with a wooden frame and leather or fabric upholstery.

Some models have an adjustable back, while others combine a steel framework with leather or fabric upholstery of varying texture. The latest generation are made of novel materials in original configurations and colors.
How to choose
Since this furniture requires a significant amount of space, its location should be carefully considered before acquisition. When selecting a style, keep in mind that the creations of leading designers are timeless, and can be used with any decor. There is a wide selection of quality pieces available.
Advantages
- Comfort
- Ergonomics