How to choose this product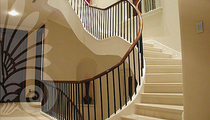 The masonry staircase usually uses concrete for its structural base. This requires finishing in another material: wood, ceramic, natural stone, etc. It projects an air of solidity and can be a room's focal point, depending on location. Any type of banister is suitable: glass, metal, wood or a combination.
Applications
These stairways are found in single-family homes, commercial and public buildings.
Technologies
Masonry staircases can be straight, quarter-turn or half-turn in form, with one or more flights. They can also have a spiral configuration.
How to choose
Choice of staircase will depend on several factors:
- Available horizontal and vertical space will influence selection of straight, quarter-turn, half-turn or spiral model.
- Treads can be open or with risers.
- Aesthetics vary widely, depending on finish material.
- Materials and dimensions may vary greatly between home and public stairs.
- Banister height and baluster spacing must conform to applicable regulations to prevent falls, especially where children are present.
Advantages
- Projects solidity