How to choose this product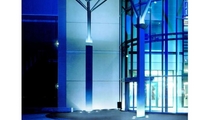 A mat for commercial buildings may be used in entrances and transition zones to trap and hide dirt, reducing maintenance costs and keeping large buildings cleaner.
Applications
These mats are found in schools, banks, stations, shopping centers, hotels and other high-traffic venues.
Technologies
Cotton, polypropylene, PVC and blended materials are used to make such mats with a range of thicknesses and backings. Some are removable, with non-slip rubber backings, while others are fastened to the floor to minimize tripping accidents. Certain models include aluminum scrapers to remove more dirt from footwear and enhance sturdiness. Many have a water retention edge to reduce the seepage onto the floor.
How to choose
Consider suitability for the intended purpose, including the mat's durability, absorbency, thickness, ability to hide dirt, ease of maintenance and resistance to slipping and fire. Dimensions should be appropriate for the space. Favor longer mats in entries and other high-traffic zones in order to trap the maximum amount of dirt before it can be spread to other areas of the building.