How to choose this product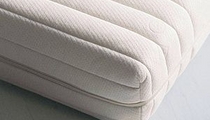 ArchiExpo displays mattresses by type, including spring, foam, latex, pocketed spring, memory and inflatable.
Applications
Together with a bed and foundation, the mattress is one of the key elements of the bedroom.
Technologies
There are three broad types of mattress:
- The spring mattress can be pocketed (individually-encased vertical springs), biconical (with unenclosed springs) or multi-coil (vertical and horizontal springs throughout the mattress).
- A latex mattress can be made of synthetic or natural latex, offering high density and resistance.
- The foam mattress may be of polyester (low density), polyurethane (medium density and high elasticity) or viscoelastic (high density memory foam).
How to choose
Choice of mattress will depend on firmness and adaptability to the sleeper's shoulder, hip, pelvis and side contours, regardless of position. It should retain its shape and not sag in the middle. Other factors include heat retention and absorption of respiratory humidity and perspiration by the mattress fibers or air spaces. This depends primarily on the quality of the filling.