How to choose this product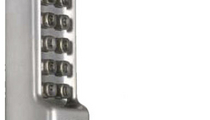 A mechanical lock requires the use of one or more keys to open the door, cupboard, drawer or strongbox in which it is installed. Combination models are opened by entering a code via a series of push buttons.
Applications
These devices provide only basic security. They are not recommended for high-security situations unless combined with other systems.
How to choose
Choice will depend on the level of security required, the lock's sturdiness and resistance to vandalism. The lock also must be suitable for door type and opening configuration.