How to choose this product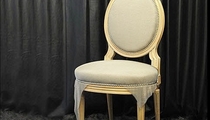 A medallion chair is a seat with a round or oval backrest. It is normally made from wood and has four legs. It is often associated with classic chairs of certain historical periods. Sometimes only the face of the seat and backrest is upholstered, the rest of the wooden structure remaining exposed.
Applications
These chairs can be an attractive addition to dining and conference areas in restaurants, hotels or even in the home. There are even certain models designed for children, available in a variety of colors and materials.
How to choose
Determine whether the chair's shape, color or materials will match other furniture and whether it needs to be of a particular style (e.g., Louis XIV). Consider frame and upholstery care requirements and the possible need for regular application of protective products. It may be necessary to protect the feet to avoid marring delicate wood floor finishes.