Memory mattresses
How to choose this product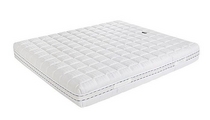 A memory mattress is made of foam composed of breathable viscoelastic fibers. When warmed by body heat, it molds to body shape, reducing compression points and improving support and blood circulation.
Technologies
Memory, or viscoelastic foam is top of the line, generally made from polyurethane.
How to choose
These mattresses are more expensive than traditional models, but the high quality of the foam justifies the price difference. True memory foam must be hypoallergenic, with anti-mite and anti-mold characteristics. Particular attention should be paid to foam density, since a low-density product will not last as long.
7 companies | 54 architectural and design products
Filter by :
› New products

(0)

› Products with video

(18)
Extend the search
Search by manufacturer
Search by catalog