How to choose this product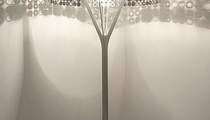 A metal floor lamp is a freestanding light constructed mostly or entirely of metal, whether for task lighting or to illuminate a certain area. On ArchiExpo, these lamps are arranged by properties such as style or special features (e.g., tripod).
Applications
Such lamps are found in residential and commercial settings. They may have special features allowing it to be repositioned or adjusted for reading or other tasks, or to create a particular lighting ambiance, as in the corner of a living room. A folding tripod base facilitates storage or repositioning, while an adjustable arm can be used to direct the light onto seating or working areas.
Technologies
Stainless steel, aluminum, cast iron and other metals are used to make these lamps. Base forms include tripod or pedestal styles.
How to choose
Consider how the style of the lamp fits with the surrounding decor. While streamlined finishes work well in minimalist environments, more ornate or traditional designs may be preferred for period style spaces.

Determine intended use and how the light is reflected in the space. Some lampshades have reflectors to enhance light intensity for reading or other tasks. Some models have an adjustable head, arm or base, offering increased flexibility. Favor designs where the weight is concentrated in the base to improve stability.