The Online Architecture and Design Exhibition

concrete garden pot
TRIGG by Moe Takemura
Wall-mounted vessels where ceramic vessels drop in a diamond shape wire frame. Can be arranged in a multitude of compositions. Use anywhere around your home as a planter, or for storage of supplies and ...

sheet metal flower pot
MKS
Metal Flower Pots MKS Technical Details: Material: Available in stainless steel or sheet metal. Different sizes are available. Standard dimensions: MKS-001: ...
See the other products
Mertoglu

Pieve is a flowerpot with a parallelepiped shape that consent to place it in every urban space. The flowerpot is made of steel sheet, it is closed in its lower portion and provided with supporting bases. The base has three properly sized ...
See the other products
Ghisamestieri

sheet metal garden pot
By Monica Förster
... production methods of Skultuna, Monica Förster and her design studio came up with a series of Flower Pots made in the very old method of metal spinning. Metal spinning ...
See the other products
SKULTUNA

steel garden pot
NR. 100565
Flower trough is of high quality and elegant design, it adds a decorative value to your outdoor environment. The trough is made entirely of quality materials, therefore its period of use can be unlimitied, provided it ...

... choices of the epoxycoated or anodized bodies and versatile functions in daily use, the user is fully equipped to enjoy their outdoor living environments to the fullest.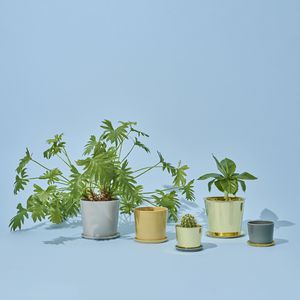 brass flower pot
BOTANICAL FAMILY
HAY's Botanical Family series comprises a series of brass and ceramic plant pots with matching saucers. The pots are available in different colours and sizes and can be combined to contrast the different materials.

metal garden pot
GRAVITY GROW by Arik Levy
... bended metal surfaces defines an active space in which it's possible to use the pc, leave a book, lay personal objects, eat… It's an element that defines a personal territory, perfect for example in public spaces, utilizable ...

steel garden pot
by Norm Architects
... the Wire Pot and Base creates a beautiful resting place for your plants, while also offering stands of varying heights to bring visual interest and decoration to both indoor and outdoor ...

powder-coated steel flower pot
PLEXUS
The PLEXUS flower pot is a decorative design element as well as an indispensable furnishing to highlight your lush fern or your precious bonsai. Its three metal folded legs encompass ...

powder-coated steel flower pot
CIRCO by Sebastian Herkner
... handcrafted range of products made from powder-coated tubular steel and colourful synthetic weave suitable for outdoor use. The CIRCO pots are available in three different sizes and come in oliv - menta, ...

All handworks LOVECEMENT are produced in italy with the following characteristics: 1_ Made of lightweight fiber-reinforced concrete treated with a protective transparent or painted with acrylic enamel. The surface treatment is a ...
See the other products
LOVECEMENT


Planter in solid iron rod forged by hand. Presented in white varnished finish Technical data – Diameter 60 cm – H 142 cm
See the other products
Barel Srl

Painted iron flower pot. Base dimensions: Version S: 280 mm X 280 mm 160 mm X 160 mm Version M 400 mm X 400 mm 230 mm X 230mm Version L 510 mm X 510 mm 300 mm X 300mm Heights: S: h600 mm M: h850 mm L: h1150 mm

copper garden pot
OBJECT 03
... x 41 (h) cm | 7 (l) x 6.1 (w) x 16.1 (h) in The only thing self-effacing about this series of geometrically irregular metal vases is that they are polished to such perfection; they disappear into their surroundings. ...

stainless steel garden pot
MODULIS
Set of supporting accessoires for tables including 6 complementary solid figure-shaped components made 18/10 inox plate with scotch brite finish.

metal garden pot
PIDESTALL by Emilie Stahl Carlsen
Pidestall Planters is a series of plant boxes for indoor and outdoor use. The Pidestalls make it possible for you to create a green oasis in the living room or an urban garden on the balcony. The plant ...

stainless steel garden pot
XL
Made of stainless steel, available with revarnished brudhed finish, or with textured epoxy lacquer finish Dimensions 1350 x 800 x 400 cm. Can be fixed on the ground, by the internal Other sizes on request Large choice of colors In/outdoor use

metal garden pot
HUG by Sara Larsson
Hug is a flower pot made of Tärnsjö leather. The Hug flower pot is named Hug after its embracing function. Hug is designed to embrace and cover other flower ...

... contrast between the rectangular box on top and the thin metal legs. Plant boxes are available in several colours. Colour: Dark Grey Size: W: 60 x H: 65 x D: 25 cm Material: Powder Coated Metal Care ...
See the other products
Ferm Living

terracotta garden pot
OUTLINE by Daniel Rous
... space of the home. The shape of the structures compliments the organic growth of the plant within. In juxtaposition, the metal material (in a variety of bubble shapes) acts as both constraint and support for the natural, ...

H: 1300 MM TOP DIAM.: 930 MM CAPACITY: 420 LITRES WEIGHT OF VASE ONLY: 71 KG DELIVERED ASSEMBLED Compatible with the Sineu Flor solution