How to choose this product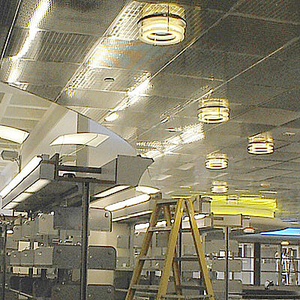 A metal panel is flat, relatively thin and of uniform thickness. It can be rigid or semi-rigid. Some are made from a single metal, such as copper or steel, while others are alloys, such as bronze.
Applications
These panels are found in suspended ceilings, on walls, floors, roofs and other surfacing, as well as being used in stairways, walkways and other structures.
Technologies
Differing materials and production processes yield panels offering a variety of physical and aesthetic characteristics including self-supporting, insulating, fire-retardant, flexible, ribbed, corrugated, printed and perforated.
How to choose
Choice will depend on aesthetic and physical qualities, size and shape of the panels, personal taste and project requirements.