How to choose this product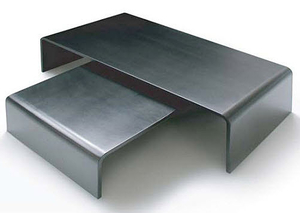 A metal table can be distinguished by its materials, function or style. Dimensions, shapes, leg type and colors vary widely. ArchiExpo offers tables characterized in all three ways, including dining, coffee, occasional and other types of table, in styles such as traditional, modern and design.
Applications
Metal tables are found in all manner of residential, professional and commercial settings. Both interior and exterior models are common.
Technologies
Many typical metalworking techniques are used to produce stamped, wrought and cast-iron tables, among others. They may be of steel, stainless steel, aluminum, brass or other metals. Finishes include paint, varnish, chrome and patina.
How to choose
Choice will depend on table size, function, installation location and aesthetic qualities. Frequent or outdoor use requires a suitable finish to resist wear and harsh weather. Weight is another factor, especially if the table will be moved frequently.
Advantages
- Sturdy
- Easy to keep clean
Disadvantages
- Cold to the touch
- Heavy