Needle punch carpets
How to choose this product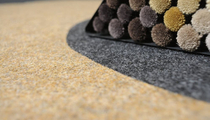 Fiber-bonded or needlepunch carpet is made by a process in which superposed fibers are interwoven with needles to form a compact mat. This is then consolidated with a polyvinyl resin.
Applications
These carpets are used wherever functionality is more important than aesthetics. They are sturdy, durable and relatively inexpensive, making them suitable for both home and commercial settings.
How to choose
Choice will depend on the carpet's wear resistance, design and materials, which can be synthetic, natural or a blend.
Advantages
- Offers acoustic and thermal insulation
- Inexpensive
- Comfortable
Disadvantages
- Stain removal is difficult
3
companies |
55
architectural and design products
Refine the search
Needle punch carpets
Extend the search
Search by manufacturer
Search by catalog