How to choose this product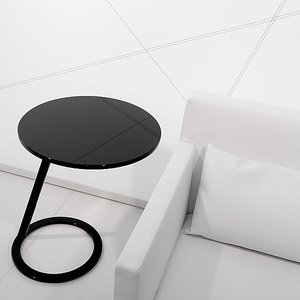 A side table is usually small and placed next to other pieces of furniture to keep lights, clocks, books and other useful items within easy reach. On ArchiExpo, such pieces are categorized by properties including style, material or function.
Applications
In addition to storing small items, some of these tables are designed for holding a laptop computer, for eating in front of the television or for another activity. They may have extensions to increase functionality. Certain models are foldaway, mobile or can double as extra seating. There are both outdoor and indoor versions.

In bars, hotels, libraries and other public or commercial settings, they are often located next to seating to hold drinks, board games or personal belongings.
Technologies
With a large range of styles available, such tables take on many forms. Constituent materials include rattan, wood, plastic, steel, or even glass.
How to choose
Consider whether the table will be fixed or mobile and if it will be stored when not in use. Ensure that the style complements nearby furniture. A design side table can add interest to neutral or rectilinear spaces. For example, an organically-shaped rattan model which allows light to pass through creates an attractive visual effect.

Verify that exterior models are weatherproof and/or corrosion-resistant. Commercial versions may have to comply with certain regulations.