How to choose this product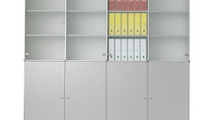 An office bookcase is used to store books and other written documents required in a work setting. It also may be used as a room divider or help define spaces in a room. On ArchiExpo, this furniture is arranged by properties including height, function, or material.
Applications
These units may be wall-mounted or free-standing, have cupboards or drawers and may be designed to accommodate written materials of a particular size, such as folders and files. They may even have an integrated white- or blackboard for conferences. While a low bookcase may be more suitable for open plan environments, a tall piece saves floor space and may even be used as a partition to create study areas.
How to choose
Bookcase dimensions should be appropriate for the space and allow enough room for easy circulation. Shelves must be sturdy enough to support the items to be stored and at a height offering easy access. The style of the bookcase should fit the office decor, either matching other furniture to unify the space, or constituting a focal point through use of an original design.