How to choose this product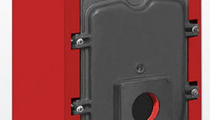 An oil boiler requires a large tank to store the heating oil it uses as fuel. A tanker truck restocks the oil periodically. This type of boiler is very efficient for heating large volumes in cold climates and is safer than a gas-fired boiler. Proper construction ensuring complete combustion is necessary for energy efficiency, effective heating and reduced carbon monoxide emissions.
Technologies
Heating oil is burned to heat water, which then circulates throughout the structure to provide heat. There are low-temperature and condensation models, as well as those capable of multi-fuel operation (e.g., oil and wood or gas).
How to choose
Choice will depend on boiler capacity and type of installation (wall-mounted, freestanding, corner, built-in). Low-temperature and condensation models offer both economic and environmental advantages.
Advantages
- Saves energy
Disadvantages
- Requires oil storage tank