How to choose this product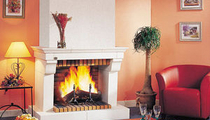 An open fireplace is an architectural element designed to decorate the main room of a home. It has a chimney or flue, and may include a decorative mantel and air intake system. There also may be a spark and cinder screen, but no door.
How to choose
Choice will depend on available space and decor of the room. The fireplace may be a wall, central or corner model. Fuel type is another consideration. Open fireplaces generally burn wood, but gas, bioethanol, electricity and mixed systems are also possible.

Fireplace and mantel style and materials can be selected to blend with room decor, traditional or contemporary. Finish options include stone, wood, steel, marble and ceramic, among others. Local regulations should be consulted before installation.
Advantages
- Tradition and warmth
- Multiple options
Disadvantages
- High energy consumption
- Significant heat loss