The Online Architecture and Design Exhibition

traditional armchair
1919 by Renzo Frau
... leather-upholstered nails further embellishes the back. The plate-holder is in wax-treated Canaletto walnut. The '1919' armchair, named after the year in which it was designed, is actually archived under the code '128'. ...
See the other products
POLTRONA FRAU

contemporary armchair
MILLS by Jephson Robb

contemporary armchair
DIAMOND
FEATURES A classic, modern design that enhances any environment, sculptor Harry Bertoia's Diamond Lounge chair remains a fascinating study in bent metal and a fixture of mid-century design. Available fully upholstered ...

contemporary armchair
FACETT
The basis of the Facett range is two settees and an armchair, complemented by two footrests (which can be used as extensions to the seating). The magic of Facett will touch all those who desire purity, without compromising ...

contemporary armchair
FRAC
with frac, a comfortable armchair with an embracing as organic shape, driade enters the contract market: frac is a simple and "universal" product, easy to read and use in every situation. fiberglass and wood polyurethane ...

contemporary armchair
K10 DODO
Swivel armchair on fixed base which can become a chaiselongue with different tilting positions. Steel frame, padding in CFCfree polyurethane foam and polyester wadding. The back and footrest are movable; the different ...
See the other products
Cassina

contemporary armchair
VALDEMAR by Johannes Foersom & Peter Hiort-Lorenzen
... cushions ensure an extremely comfortable seating – that can be even further enhanced by adding a matching stool. The legs of the armchair show the natural grain of the wood or they are painted black. valdemar is fitted ...

contemporary armchair
BACK ME UP by Arian Brekveld
The compact club chair With the BACK ME UP Lounge, Arian Brekveld puts a contemporary spin on the voluminous club chair. Its whispering design allows you room to breath, both physically and mentally. Wherever you decide to put her, she ...
See the other products
MONTIS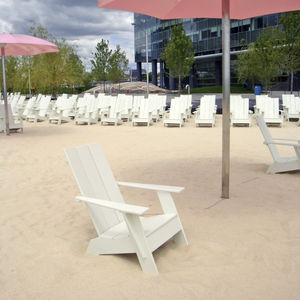 modern armchair
3 SLAT ADIRONDACK
The modern 3-Slat Adirondack Chair has more comfort than you would expect from an outdoor chair, and even more so when you factor in that you will never have to work on it. Loll furniture will not warp or rot, and requires no paint, ...

contemporary armchair
CHILLOUT by Giuseppe Viganò
As soothing as background music, Chillout explores the new design trend that recreates old classics with a modern twist. Designed by Giuseppe Viganò, this piece of furniture draws its inspiration from a laid-back living area, whilst its ...

contemporary armchair
NOVA BASSA
See the other products
RICCARDO RIVOLI Design

contemporary armchair
BARNABY by Perrine & Gilles
Perrine & Gilles have transformed the anti-aesthetic practice of covering a sofa with a cover into a work of art. This tradition was particularly prevalent on Spain's Mediterranean coast and was crying out to be updated. From this experiment, ...
See the other products
SANCAL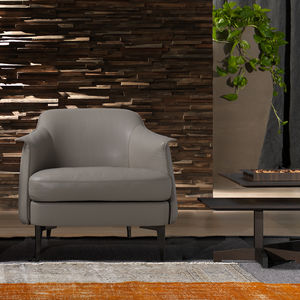 contemporary armchair
BOHÈME by Stefano Conficconi
... modern use, all the elegance of an ageless armchair. TIMELESS STYLE The design of this model successfully combines the elegance of the past with modern inspirations in order to offer a comfortable and classy armchair ...
See the other products
cierre

contemporary armchair
LENNY
... is perhaps our most iconic design, a clever combination of concave and convex curves that create a unique and unrepeatable armchair. Its fibre seat and back cushions offer an incredible comfort. The base is a swivel and ...

contemporary armchair
LOBSTER
Metal frame Seat depth 51 cm - 20''. Seat height 42 cm - 17''. Seat cushion in polyurethane. Dark chrome base. Metal zipper with black fabric. On request white, beige or dark brown at no charge. Special stitching CUC 514.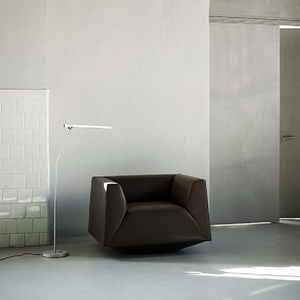 contemporary armchair
CRYSTAL by Pearson Lloyd
See the other products
Tacchini

contemporary armchair
ARKO by Dario Gagliardini
The combination between modernity and tradition turn Arko into the ideal product to decorate in which we want to communicate an air of sophistication. Its modern shapes bring to mind traditional pieces with contemporary taste. MATERIALS 1. ...
See the other products
FRAJUMAR- BELTA

contemporary armchair
AMBER by Francesco Lucchese
Built for inner softness, but endowed with outer elegance. A twofold compact volume, ethereal-looking with its outwardly projected lines, functional yet very feminine. A full volume expressed in two visual interpretations: a rigidly compact ...
See the other products
Swan Italia

contemporary armchair
AMERICA
The designer Marc Sadler creates a retro armchair, inspired by the American Swinging '50s, with their unique and progressive style. America is an elegant seat, a perfect mix between contemporary materials and vintage ...
See the other products
SLIDE

contemporary armchair
AUSTIN
Austin balances geometric angles with a contemporary look. It stands out with bold lines and exotic elegance. Inspired by Texas's arid environment, it will fit into more sober decors but any moment spent in the Austin glider is a guilty ...
See the other products
DUTAILIER

contemporary lounge chair
by Claesson Koivisto Rune
Three layer lounge chair with upholstered seat and wooden back. Auto return swivel and balancing.
See the other products
CAPDELL

contemporary armchair
ARAGOSTA by Studiocharlie
A plastic pose. Pointed claws and antennas on a chunky body, hence the name, which means lobster in Italian. The larger parts are rendered lighter through discreet but decisive detail. The woodvein is this crustacean's upper shell, in ...

contemporary armchair
TIME OUT
... living, created in rotationally moulded polyethylene and with steel structures. The collection includes: a chair, a small armchair, a stool, a square table, a rectangular table and a chaise longue that is available in ...

contemporary armchair
PUFFONE
A warm, comfortable design for a seat that takes the shape of the user's body, through micro-beads in polystyrene and polyurethane foam, which allow variable ergonomics. The entire line of easy chairs is designed, produced and assembled ...
See the other products
GART

contemporary armchair
LIBERTY