How to choose this product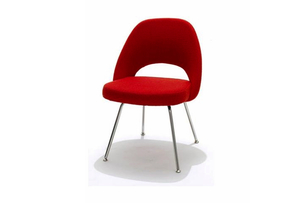 The very word "design" evokes the chair, one of the most common pieces of furniture, and present in almost every kind of room. Certain models have marked the history of furniture development and remain popular today. These include chairs by Le Corbusier, Frank Lloyd Wright, Alvar Alto, Charles Eames and other names from the Modernist movement. Their works are still regarded as masterpieces.
Applications
Certain pieces are suitable for use with any dining table, and work well with modern and traditional furniture. Mies Van de Rohe's Mr. Chair is a good example. The Panton Chair, described by some as sculpture rather than furniture, is one of the most widely copied models.

Others, like Eero Saarinen's Tulip Chair, are best used in contemporary settings, while chairs by Livia di Gio Ponto or Thonet fit well in traditional dining rooms. The number of models and combinations is endless.
Technologies
Design chairs are made from a wide variety of materials from the highly traditional wood, metal and leather to original and innovative constituents.
How to choose
These chairs are certainly more expensive than others on the market. The selection must be made with care to be sure it will work well with the other furniture and the overall style of the room where it will be placed.
Disadvantages
- Expensive