standard fireside chair
ARIA by Antonio Rodriguez
Lounge chair which is a perfect combination of technological and craft skills: the stainless steel frame is laser formed and calendered entirely by hand, while the covering is made by cutting, stitching and gluing carefully ...

standard fireside chair
SKYBAR by Sætveit Geir
... once both massive and graceful, and very comfortable to sit in, too. The chair has a swivel base that includes a spring-back mechanism. Designed by Geir Sætveit, the Skybar chair's ...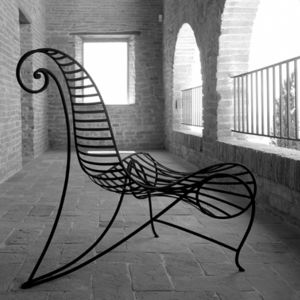 standard fireside chair
SPINE by André Dubreuil
Chair with structure in iron painted in various colours, silver-leaf or gold-leaf cm. L/W 64 - P/D 94 - H 40.85

original design fireside chair
PISOLOTTA by Denis Santachiara
A simple armchair that reminds a fantastic creature. Between its claws it squeezes a pouf which, at the right moment, can be released to be used as a footstool or as a pouf for an unexpected guest. Then, if its getting ...

standard fireside chair
KNOTTED
Description This lightweight chair combines industrial techniques and handcrafting. A thread constructed of aramid and carbon fibres, is knotted into the shape of a chair and then impregnated with epoxy ...

standard fireside chair
FIOCCO by Gianni Pareschi per G14
Supporting frame by a curved metal tube protected by a polyurethane foam membrane, fitted by an elastic fabric that forms the seat. Completely removable covers and available in different colours.

standard fireside chair
MEDICI
Medici, designed by Konstantin Grcic, is a low chair with a comfortable reclined posture. Its generous dimension gives the chair an embracing confidence. The chair, ...

standard fireside chair
CAPITELLO by Studio 65
... one with the other. This architectural archetype, produced in polyurethane, becomes in this way a series of objects of industrial design of smooth texture and cosy ergonomics. The Ionic volute, which is the upper part ...

standard fireside chair
X-LOUNGER
MATERIALS: SATIN ALUMINIUM, RATTAN DIMENSIONS: SOO X SOO X H50 YEAR: 2002 THE GEOMETRY OF X_LOUNGER IS EASED ON A SINGLE RAY TRACED ALONG A PERIODIC DOUBLE CURVED SURFACE, RESULTING IN A RANDOM LOOKING YET CONTROLLED CONSTRUCTION PATTERN. ...

standard fireside chair
EVO™
... / 71,1 L X 87,6 W X 76,2 H The EVO™ armchair is a modular seating concept with components that mix and match to create dynamic seating environments. Its deep recesses are the result ...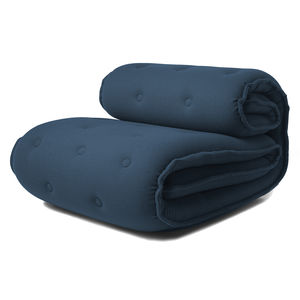 standard fireside chair
ROULADE by KiBiSi
... is outstanding. It is a sort of new comer – a plump 1,5 pax sofa designed for laid back hangout. Bespoke, oversized buttons modernize the old school Chesterfield expression. Back & Seat section: Polyurethane ...

visitor fireside chair
LA COSA by Niall O'Flynn
Description MDF frame High density foam and upholstery in fabric or leather

standard fireside chair
MOSS by Giancarlo Zema
The moss with its soft and colourfull texture that fits smoothly to the forms of nature, has seduced the pencil of the architect Giancarlo Zema, who has created for Giovannetti a collection of seats and low tables in fresh colours and ...

standard fireside chair
CHLOE
Description: Bronze cast seat / Year of design: 2005 / Edition of: 30 / Dimensions: L80cm x W87cm x H70cm

standard fireside chair
REBELLE
Description: Copper cast sculptured seat / Year of design: 2005 / Edition of: 8 / Dimensions: L135cm x W140cm x H85cm


standard fireside chair
LOVELY

standard fireside chair
CORQUI by Pedro Silva Dias
The Corqui Lounge Chair concept combines attractive aesthetic lines with a comfortable seat made from cork. The cork sensorial characteristics are predominant when experiencing the seating ...

standard fireside chair
PUNTO G by Giovanni Bartolozzi
... element which generates a hybrid seat while folding into itself. The G-shaped section is a sign of material continuity, a self supporting segment which brings together the parts and allows different uses. The armchair ...

standard fireside chair
OTTO by Peter Raacke
This re-edition of the OTTO has its origin in the series Sitze für Besitzlose" of 1968. This light chair, made of cardboard inspires to paint, lacquer or drape it. Or optionally leave it original ...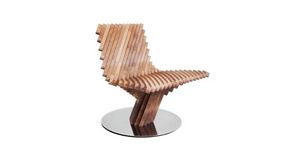 standard fireside chair
TWIST by Toni Grilo
Oak and Stainless steel FTW01NO/FTW02NL | Dimensions 640x630x650 mm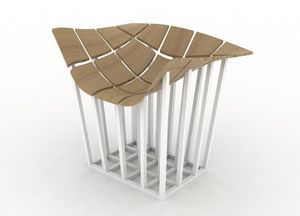 standard fireside chair
FUSO