How to choose this product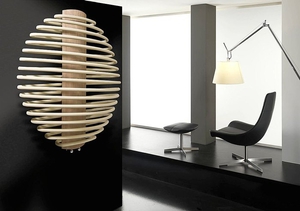 While a standard radiator may be functional, with straight lines, a design model expresses an original concept through its color, form or finish. It is intended to stand out from its surroundings rather than be hidden away. It may be wall-mounted, suspended from the ceiling or even portable. On ArchiExpo, these devices are categorized by properties such as material or power source.
Applications
Standard radiators are sometimes considered clinical, industrial or unappealing. Design versions come in an exciting range of sculptural shapes, which can be ideal for locations where the heating system is visible. Some may have adjustable thermostats or integrated towel racks. Portable designs may even have handles.
Technologies
These radiators include both hot water and electric models. Unusual finishes include glass and wood.
How to choose
Consider the choice between hot water and electric models. Installation location is important. Placing the heater near a window may warm cool air entering the space. Determine energy efficiency and decide whether the radiator will be fixed or portable.

Evaluate cleaning and maintenance requirements. Complicated forms may be harder to clean than simple ones. Decide on extra features such as an adjustable thermostat, towel rack or programmability. Ensure that it complies with local regulations, especially those concerning fire hazards.