How to choose this product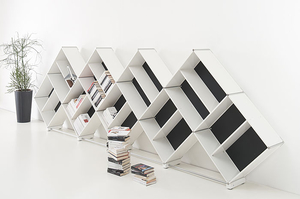 A design shelf differs from its contemporary counterpart in its original use of form, color, construction or materials, as in hexagonal cardboard shelving. On ArchiExpo, such items are categorized by properties including style (e.g., minimalist), materials or function.
Applications
These shelves may take on unusual sculptural or organic forms, constituting a focal point in a domestic or a commercial setting. Curved or sloped configurations challenge conventional storage and display modalities for books, DVDs and other items. Modular, stackable, wall-mounted or freestanding, they may incorporate seating, lighting or other features.
Technologies
Unusual construction materials include reinforced concrete, cardboard and leather. Wall-mounted shelves may be supported by brackets or a track system, the latter especially useful for multiple shelves. Fasteners may be visible or concealed.
How to choose
Design and dimensions should be appropriate for available space and surrounding decor. A shelf with an unusual shape may constitute an interesting centerpiece or room partition, but often occupies more space than other models. When favoring function over form, shelf capacity may be more important than color or style.

Freestanding or wall-mounted, shelf size and strength must be suitable for the objects to be stored. Verify that the wall is sturdy enough to bear the weight of the shelf and its contents. Another factor is the choice between fixed and mobile shelves. Certain models, such as those in concrete, are difficult to move.