How to choose this product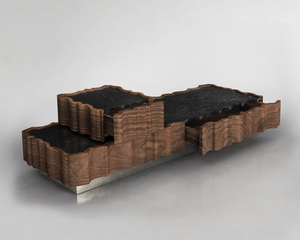 A design sideboard is a piece of furniture used for storing and/or displaying items such as tableware or even serving food. It expresses individuality and creativity through an unusual use of materials, construction or finish. It may challenge the traditional functions of a sideboard (e.g. it may double as seating).

On ArchiExpo, a design sideboard may be arranged by properties such as type of design (e.g. minimalist, Scandinavian) or materiality.
Applications
A design sideboard can add an original touch to a domestic space such as a living room, a feature in a commercial space (e.g. a hotel room or lounge area).
Technologies
A design sideboard may be constructed from materials including solid wood, glass or steel.
How to choose
When choosing a design sideboard, consider whether its form or finish will create a focal point in the space, or whether it will complement other design furniture. While a wall mounted design may appear to float, open the floor space and facilitate cleaning, a freestanding design sideboard allows more flexibility when re-arranging the layout of a space.

Consider how the side board will be used, how many items it will need to store and how much maintenance is required. While wipe clean and shock resistant designs may be more suitable for high traffic environments, sideboards used for display rather than regular use may prioritise style over robustness.