How to choose this product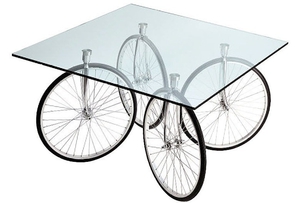 A design table expresses innovation through an original use of form, construction, materials or in its function. It reinvents the table, perhaps by taking an unusual form. For example, it may be made from a single stainless steel sheet folded asymmetrically to form legs and painted bright orange. On ArchiExpo, such pieces are defined by properties including materials, function or style.
Applications
Such a table can make a great centerpiece in either a residential or a commercial setting, including interior and exterior dining areas. It may have integrated seating, storage, lighting or planters. There are fixed and mobile, folding and stackable models, as well as those with extension leaves.
Technologies
Fabrication can involve a number of innovative materials and techniques. For example, rotational molding can produce organic, seamless forms.
How to choose
Consider functional needs such as the number of people to be seated and proper height for a particular task or individual. Organic or unusual shapes may require extra space around them to avoid making the room appear cluttered or unbalanced.

Determine how style and materials will contribute to or contrast with the surrounding decor. Delicate designs which are easily damaged may not be suitable for restaurants, public areas or other high-traffic environments. Evaluate maintenance needs. Outdoor models should be weatherproof and resist corrosion.