Outdoor ashtrays
72 companies | 258 products
How to choose this product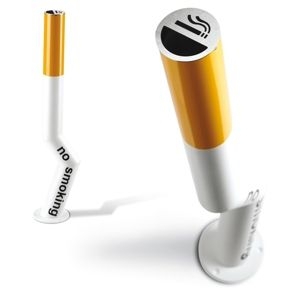 An outdoor ashtray is normally destined for public and commercial environments to encourage people to dispose of cigarette butts responsibly. On ArchiExpo, these items are arranged by properties such as mounting method or location.
Applications
These ashtrays may be installed in public transition spaces such waiting areas or designated smoking areas, and may be combined with or fixed to elements such as trashcans or lamp posts. They are also found in outside bars, restaurants and shopping centers. They may be designed to blend in with other street furniture or to stand out to encourage usage.
Technologies
Outdoor ashtrays may need to be weatherproof, UV- and fire-resistant. Stainless steel, anodized aluminum, melamine and other materials are used in their construction.
How to choose
Outdoor ashtrays should be sturdy, fireproof, easy to use and installed in areas where smokers are common. Consider how often it will be emptied and ensure that its capacity is appropriate for the frequency of use. Determine whether the design will blend in with its surroundings or stand out. Other factors include ease of cleaning and maintenance requirements.