The Online Architecture and Design Exhibition

decorative paint
OLD TIME
... Times Line of lime-based mineral paints, stuccoes and plasters, breathable and water-based. Ideal to create the antique, polished stones and glossy marble effects. For interior and exterior use. Transpirable ...
See the other products
METROPOLIS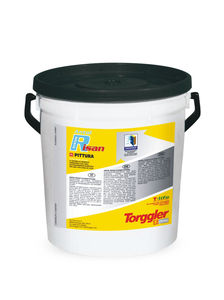 protective paint
ANTOL RISAN SYSTEM PITTURA
... -repellent silicone paint for painting renovating and/or dehumidifying systems. CLASSIFICATION ACCORDING TO REGULATION Type R according to UNI EN 998 and WTA certificate APPLICATIONS Protective and highly breathable ...
See the other products
Torggler

decorative paint
PUMAFLEX
Product that provides continuous coverage capable of preventing water seepage and the consequent problems resulting from dampness. It is a coating that completely adheres to the surface, with high flexibility, elasticity and mechanical ...
See the other products
GRUPO PUMA

decorative paint
P 280 012 - MF 1
White mineral paint suitable for inside and outside areas. KÖSTER MF 1 is delivered in powder form, effective against algae, mold and fungi and free of fungicial toxins.

decorative paint
EXTRAPAINT
EXTRAPAINT is a very washable, acrylic paint, for exterior and interior use, characterized by high coverage, excellent vapour permeability, water repellence and a finish that is smooth, matt and soft ...
See the other products
OIKOS colore e materia per l'architettura

decorative paint
EXEDRA SPATOLA
... formation of mould and bacteria. It is ideal for indoor and outdoor decoration with "ancient style" effect and can be applied on different surfaces, even previously coated with no–chalking lime paints.
See the other products
UCIC

decorative paint
CACHEMIRE®
Range of high quality water-based metallic paints Is made with real metal powders and produces a bright, warm and glossy finish of any surface. Ideal for small surfaces, accent walls or accessories.
See the other products
MATHYS PAINTS

Paint for swimming pools –antialgae Method of Application: Brush, airless spray gun Color: White, swimming pool blue Theoretical performance: 12-13 m2/l Repainting: Touch dry: Max. 30 min. Repaint: 24 hours Finish: ...
See the other products
IBERSA PINTURAS

Klima Aquatech Line: Exterior wood items must be protected from adverse environmental conditions and unwanted guests such as fungi, mold and parasites.These conditions are a constant threat to the beauty of windows, ...

leak-proofing paint
MOBZER NOSTALJI 8030
Description Mobzer Nostalgia is an easy-to-apply bituminous solution which provides an antique look by highlighting the veins of wood. Usage Areas It is used for providing an antique look by highlighting the veins of wood. It is ...
See the other products
EMULZER

Category: Paint Collection: Scuffmaster – Physical Properties Application: Spray Durability: 4,200 Scrubs, in accordance with ASTM D2486 Waterbased polyurethane acrylic – Sustainability VOC Content—97 g/L (LEED ...
See the other products
Wolf-Gordon

protective paint
NORDCOLOR
... is available in four standard colours (white, grey, red and green) and others on request. Usage field NORDCOLOR protective paint is used as anti-UV and anti-carbonation agents on any building surface, e.g.: exposed ...

decorative paint
ALSICOLOR D2 PREMIUM
See the other products
ALSECCO

decorative paint
EVOSHINE RELIEF
Surfaces with the character of ice crystals, with wood grain or in a stone look and, to boot, in many possible colours: Our coating experts have developed new and innovative surfaces for you, with which steel and aluminium surfaces do ...

decorative paint
FIXACRYL OPAC
See the other products
LEVIS

... underlying plaster by rainwater, suitable as a finishing AFONTERMO ® for outdoor use. PAINTING THERMOFOTOCATALITICA SILICATE POTASSIUM , highly breathable for indoor and / or outdoor and simply to improve ...

decorative paint
FIXATEUR MINERAL
FIXATEUR MINERAL is a mineral primer based on silicate potassium used to protect façade. Main qualities : • Excellent application on alkaline surfaces. • Fixes and consolidates mineral surfaces. • Remarkable surface penetration. • Colourless ...
See the other products
PEINTURES ONIP

Ready-to-use, aluminium water-based paint. Protects against UV rays and heat. Can be applied to all substrates, particularly to bituminous coatings, insulation and metallic substrates.

protective paint
GLYCÉRO DÉCO
See the other products
RIPOLIN

See the other products
PRB

Decorative mineral water paint based on lime for exteriors and interiors Use PC 144 is used as decorative mineral paint in interiors and exteriors, on base coat or finish coat plasters based on lime ...
See the other products
Fassa Bortolo

decorative paint
THERMOLAQUAGE QUALICOAT

decorative paint
NIGATEX EVOLUTION
See the other products
ZOLPAN

decorative paint
ECO 100% PROFESSIONAL ECO ACRYLIC PAINT
Excellent quality pure 100% ecological acrylic paint for exterior use.
See the other products
Berling Paints

protective paint
VALSPAR®
Interior/exterior paint + primer Durable, lustrous finish Withstands wear, indoors and out Excellent hide & silky smooth appearance Gloss-lock formula: Freshly painted finish even after cleaning Stain resistant and ...
See the other products
VALSPAR