How to choose this product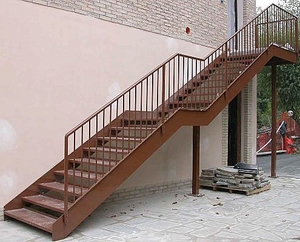 An exterior staircase is built to withstand varied weather conditions and may be prefabricated or custom built. The many forms include circular, straight and half-turn, as well as one or multiple levels. On ArchiExpo, these stairs are defined by properties such as form and material.
Applications
Outdoor staircases provide access to buildings and maintenance areas, allow movement between different levels in gardens and public spaces or even access to bridges.
Technologies
Such staircases are commonly made from robust, corrosion- and weather-resistant materials such as stainless steel, aluminum or even reinforced concrete.
How to choose
Consider how much space is available and intended use, the number of levels required, possible configurations and appropriate materials. While staircases embedded at ground level may be made of stone or brick, those designed for fire escapes or upper story access generally use robust, light, cost-effective materials such as stainless steel or reinforced concrete. Specifications and dimensions must comply with applicable regulations.

Ensure that the treads are non-slip and that materials are easy to maintain and will withstand local weather conditions. Other factors include style and finish, and their suitability for the areas linked by the stairs.