How to choose this product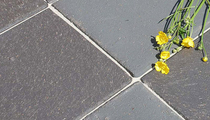 Exterior tile differs from its interior counterpart in that it is exposed to climatic rigors such as moisture and extreme temperature changes. It is available in diverse formats and materials.
Applications
These tiles are found in both home and pubic settings. However, their characteristics differ with the intensity of the traffic they must withstand and the environment in which they are used.
Technologies
Ceramic, porcelain stoneware, terracotta, natural and engineered stone and concrete are all used to make exterior tiles.
How to choose
Choice will depend on a number of factors:
- Impermeability prevents the tile from absorbing water and subsequently cracking during freeze-thaw cycles.
- A slick surface can be dangerous in areas where moisture is common, such as around swimming pools. Slip-proof tiles have a rough, rather than a smooth finish.

- Shock resistance is important in areas where heavy objects might fall on the tile. Pigment should penetrate the entire thickness of the tile to prevent blemishes in case of cracking.
- Ease of maintenance also should be considered. Smooth finishes are easier to clean than rough ones.
- Abrasion resistance is particularly important in areas of high foot or vehicular traffic. The greater the traffic, the sturdier the tile must be.