The Online Architecture and Design Exhibition

stone wall cladding
NATURAL
... the supply of manufactured stone cladding and natural stone cladding for all regions throughout the UK. Everything on this website is a stone veneer which varies in thickness between 35mm - 45mm. Our ...

fiber cement wall cladding
ALTERNA
Application: ROOFING Material: Profiled Sheeting Texture: Corrugated sheet Use: Exterior Reference: Roofing, residential, agricultural, Industrial Buildings GRANONDA is a high strength fibre cement sheet with polypropylene ...
See the other products
Euro Panels

wooden wall cladding
STADE DE MARRAKECH
See the other products
Jet contractors

slate wall cladding
KALEIDOS : CRASSUS
Application: Product for external area, Product for internal area, Product for floors Restrictions: Composition: Real Dimension: 25 x 40cm Referential Dimension: 25 x 40cm

Facade slate provides reliable and durable protection against almost all-weather influences and gives an aesthetic appearance. MAGOG slate offers you a high level of functionalism combined with architectural anaesthetics. In addition ...

concrete wall cladding
TESSERA
... sought-after effect after installing these concrete pieces on the wall is always unique, as there are various combinations. One or two sets of TESSERA, in the same color or not, could decorate an empty wall ...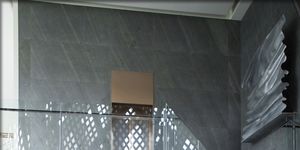 slate wall cladding
SLATE
... 610 mm from real slate. The panels can be installed outside and also inside, on preexisting tiles in living areas, e.g. on walls and floors. In contrast to thicke slate the panels have the advantage that they are easy ...

... Terreal North America, Ludowici offers a wide variety of highly innovative terra cotta wall cladding products. Beautiful, durable ventilated facades, acoustic claddings and terra cotta ...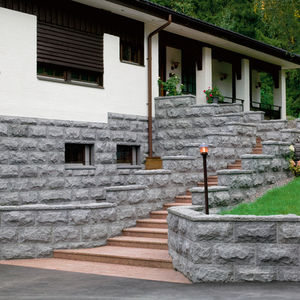 granite wall cladding
TK-554M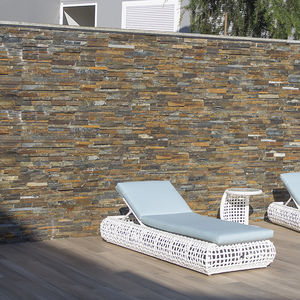 natural stone wall cladding
ANGELICO
Natural Stone Dim.: 15x60cm 0,36m²/cx – 22,86Kg/cx

travertine wall cladding
CLASSIC SPLIT FACE
Classic Split Face Travertine tiles provide an excellent decorating solution for areas that would benefit from a natural stone finish. Mosaic tiles have been used for thousands of years to create interesting and eye catching designs and ...

These stones are designed for cladding on walls, retaining walls, facades or posts. Thanks to the facing stones, an aesthetically impressive cut or ground surface can be arranged on existing ...
See the other products
KB BLOK

natural stone wall cladding
VESUVIO by Giorgio Parise & Marostica (VI)
A house surrounded by greenery hosts Lapitec as the cladding for both its roof and its facade. The architecture of the residence blends elegantly with the context and uses natural elements such as wood combined with ...
See the other products
lapitec

marble dust wall cladding
... particular size 25x25 can be used in order to exploit the typical charatteristics of resistance of the bricks in cement for wall-facings.As a matter of fact, this solution allows to preserve the external structures from ...

wood mosaics, antique wood ideal floor realizzacioni in green building,

quartzite wall cladding
BROWN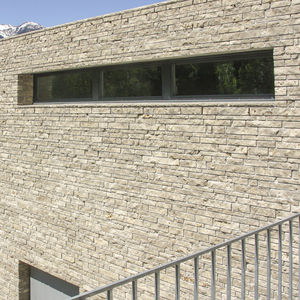 natural stone wall cladding
DIETFURTER DOLOMITE
See the other products
Franken-Schotter GmbH & Co. KG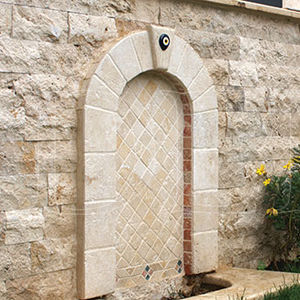 travertine wall cladding
SPLIT FACE 100XFL

For the Granite Centre in Hauzenberg, as well as façade elements we supplied large format internal coverings and monolithic vanity tops (70 x 70 x 91.5 cm) with semi-circular basins of Tittling Fine Grain. The Granite Centre has been ...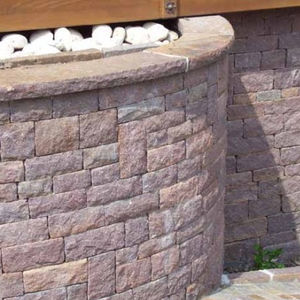 natural stone wall cladding
SPLIT VISIBLE FACE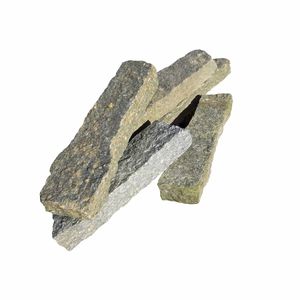 natural stone wall cladding
LUSERNA
Luserna Stone or Gneiss tiles feature a natural exposed surface and split or sawn edges. They are especially suited for restoration work, for architectural patterns, for paving historical town centres, squares, pedestrian areas, lanes, ...
See the other products
COLOMBINI S.P.A.

concrete wall cladding
MURETSOL
See the other products
Marlux

natural stone wall cladding

... trend in using wood for home exteriors in the form of wall wood cladding. With this marvelous come back every home can now radiate with a natural warmth and elegance ...