How to choose this product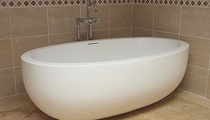 An oval bathtub may be built-in, recessed, or freestanding. Its style, rounded shapes and comfort make them particularly attractive. ArchiExpo offers these tubs organized by material, maximum number of users and features.
Applications
Such tubs are ideal for both residential and commercial uses, such as in hotels. Possible extra features include hydromassage and built-in lighting. While free standing versions can constitute an attractive focal point in a large bathroom, fitted versions often look neater and are easier to clean in small bathrooms.
Technologies
Enameled steel, acrylic, stone or even wood and other materials are used to make these tubs.
How to choose
Consider how much space is available and which shape and dimensions afford the most comfort. Determine the number or users and the need for hydromassage or other special features.

The tub can be a focal point or designed to blend into the bathroom. Verify maintenance needs ensure that it is suitable for its intended use. Individual comfort and style may be more important in a residential setting, while ease of maintenance and robustness may take priority in a commercial environment.