How to choose this product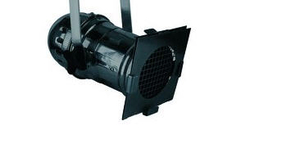 A PAR, or parabolic aluminized reflector light is a simple device. It produces a light beam with defined edges, but softer than those of an ellipsoidal reflector spot.
Applications
These projectors are used for both indoor and outdoor stage lighting. Simple, economical operation makes them one of the most widely employed stage fixtures. The most common model is rated at 1000 watts, though 500 and 2000 watt versions are sometimes used.
Technologies
This simple apparatus consists of a housing containing a mobile mechanism holding the bulb and reflector. The beam exits through a plano-convex or Fresnel lens. The lens and reflector concentrate the beam, making it nearly parallel, and control its dimensions.

The angle of radiation can be varied over a wide range, from a narrow spot to a broad flood, by changing the distance between the bulb and the lens. PAR lights can be fitted with shutters to alter the shape of the beam.
Advantages
- Compact
- Simple handling
- Easy to install and adjust
- Economical